Moving Average Indicators
| | | | |
| --- | --- | --- | --- |
| Please Google+ Like or Tweet Us! | | | Tweet |
There are various moving averages within the tools of market analysts. The simple moving average (SMA) is used to determine the average value of a various security's price over N period of time. This is calculated by adding both the closing price of this security for a number of specified time periods and dividing by the total of time periods used in the first calculation. Ultimately, the average price is discovered. The plus side to SMA is that it is not affected by variables in the markets; it provided straightforward averages. Many believe it's time to buy when the price of the security on the trading chart rises above its moving average; ultimately, others feel its' time to sell when it falls below the MA.
Another moving average that market analysts use is the Exponential Moving Average (EMA). This is calculated by using a percentage of the closing price of today's to the moving average value of yesterday. This ultimately gives more concern towards recent prices and follows the same buy/sell strategies of that of the Simple moving average. Most of these are plotted within the Moving Average Convergence/Divergence (MACD). This highlights a differential and signal line. Various time periods are plotted and used to indicate trends of buying and selling within the market.
The Parabolic SAR (stop and reverse), to find various trends within securities and market prices. First created by J. Welles Wilder, Jr., this trailing stop loss chart uses prices that generally stay within a parabolic (parabola) curve. This creates a strong trend and buying sensation within the market. Many feel that time is an enemy when it comes to this method; ultimately if something doesn't continue to show positive, then one should sell it. The results of this chart indicator are more extreme than most other methods used by analysts to study the market.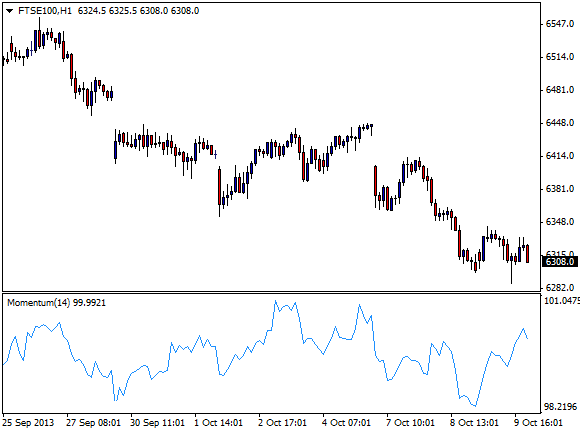 Parabolic SAR Indicator
Each trend is calculated separately. For example, an uptrend in price is established if the SAR is below the price and ultimately converges up. A downtrend exists if the SAR is above the price and moves downward consistently there after. Most of the time, SAR is calculated before it actually occurs. EP, an acceleration factor, is used to determine this price (usually .02 is used).
There are two special things that must be kept in mind. One: if tomorrow's value is somewhere between today or yesterday's price, then it must be set to the closest price. Also, if tomorrow's SAR value is within or above tomorrow's price range, then a new trend is created and ultimately signaled (the SAR is switching sides).
Want To Test These Indicators On A Real Trading Platform WIth Zero Pips?
Open a free account and Download MT4 Platform. With this you can trade direct from charts and test all the built in indicators. It really is one of the best charting packages available.
More Chart Indicator Guides

The MACD Indicator - Moving Avergage Convergence Divergence
RSI Indicator - Relative Strength Index
Bollinger Bands Indicator
Fast and Slow Stochastic Indicators
The Momentum Indicator Explained
The Money Flow Index Indicator
Chaikin Indicator
The Average Directional Movement Index (ADX)


If you like these guides, please show us you care and share them on Facebook, Google and Twitter with the buttons found above each article. We really appreciate it!