Market trend chart
Market trends for stocks, futures, forex, index
Instrument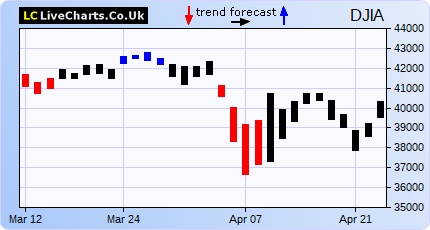 DJIA 2020-03-30
Data updated at previous close for todays trading
Date
Signal
Price
2020-03-30

Trend Up

22,327.5
Our trend forecaster has posted a TREND UP signal for today.
To find out more about this signal please read Signal Descriptions
Watch carefully over coming days for further TREND UP signal bars breaking above this first Signal high, confirming the trend direction.



Please be aware you use this forecast at your own risk, it is for information purposes only and forecasts are not a recommendation to buy or sell a stock, index or future contract. Please read signal descriptions for further understanding of the forecasts.
For a full explanation of how these signals work read this page » »
Ask questions on our forum about any of our data tools » »


Data and information is provided for informational purposes only, and is not intended for trading purposes. Neither livecharts.co.uk nor its data providers shall be liable for any errors or delays in the content, or for any actions taken in reliance thereon. By accessing the livecharts.co.uk web site, a user agrees not to redistribute the information found therein.
Index market trends
UK market trends
US market trends
LIVE INDEX CHARTS
LIVE STOCK CHARTS
CRYPTOCURRENCY