FTSE 100 Sinks To Lows, Results from Britvic, Mothercare, Thomas Cook, Bloomsbury
The FTSE 100 index has traversed to the lower end of its current trading range between circa 6060 and 6200. The low in UK morning session stood at 6068 as Crude Oil pulled back for a 2nd consecutive day. Gold was also sliding again, after comments in the Federal Reserve's minutes that were bias toward another interest rate hike, whilst most analysts had predicted June was off the radar.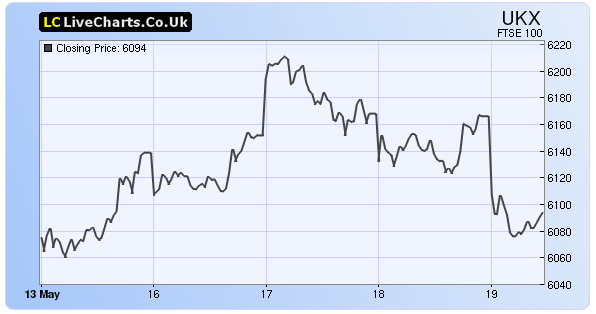 In the UK, some major companies were publishing results. Here is a quick overview of some of the movers.
Britvic plc (BVIC) published Interim results showing a first half revenue gain of 5.1%. Profit after tax was also increased by 7.5% to £41.7m, and dividend was raised to 7p. However, organic revenue (excluding from Brazil) fell 1.8% for the period.
Highlights from the group included a 7 year deal with Subway for positioning of the Britvic and Pepsi brands. Fruit Shoot multi-packs are being launched on the USA grocery channel. Simon Litherland, Chief Executive Officer stated, "We have reported a 7.1% increase in EBITA in the first half of the year despite the challenging customer environment and continued price deflation in our core markets.".
Thomas Cook Group PLC (TCG) stated despite disruption in some key markets, they were able to make significant progress. This set of results showed a narrowing of losses at the holiday group, pretax loss was at GBP208m, compared to a loss of GBP303m for the 2015 period. TCG share price was down 18% in early morning trading.
Mothercare PLC (MTC) published a swing into full year profit. Underlying profit before tax was up 51% at £19.6m. Online sales were also up by 15% and losses reduced by 64%. This could be a major turning point for the company. Mark Newton-Jones, Chief Executive, said, "I'm pleased to report that two years into our turnaround strategy we have recorded a 51% growth in underlying profit before tax and the delivery of our first statutory profit in five years.".

Bloomsbury Publishing PLC (BMY) the famous book publisher of the Harry Potter series published a jump in revenue of 11% to £123.7 million. Profit before tax gained 8% to £13.0 million. It was reported that sales of Harry Potter in the year grew by 133%, the Children's and Education revenue increased by 57%.

About Pete Southern
Pete Southern is an active trader, chartist and writer for market blogs. He is currently technical analysis contributor and admin at this here blog.
More In Currency Articles
More In Gold and Oil News
More In Shares and Markets