Gold Prices Holding Firm Above $1500
Gold prices have seemingly found a comfortable level above $1500 this last week. This comes after a phenomenal rise in late December in anticipation of the USA China trade deal being signed off and the President's impeachment.
This rise continued to accelerate into January when the USA assassinated the Iranian General Qasem Soleimani.
Worries of conflict often see a flight of money into Gold, and prices certainly responded – with a rise tipping the $1600 mark in the days following.
Since then the possibility of conflict between the USA and Iran seems to have calmed somewhat and Gold has pulled back into the $1500 area where it seems comfortable.
However, Gold doesn't look like it's finished just yet.
If you look at the chart from summer 2018 at $1200 through to now – it's incredibly bullish. After each small consolidation another breakout appears.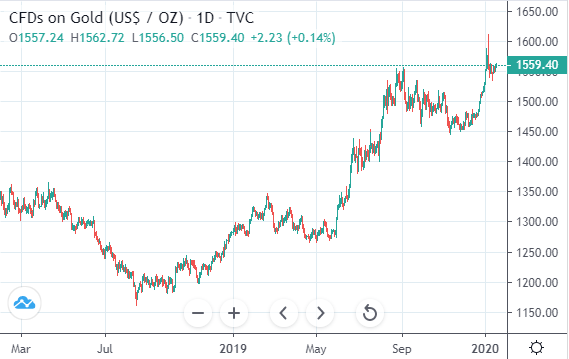 In fact this is one of the most bullish moves upward in Gold since 2009, when in the 24 months that followed Gold hit an all-time high near $1900.
There's probably more news to come during this year on the next stages of the US and China's trade deal. I also wouldn't rule out more issues with Iran.
In addition we have an election year in the USA. This is often a strong time for stock markets, but after the result stocks can often sell off in the months which follow. This could also push Gold higher.
So for now Gold prices remain in a bullish phase. Many commentators are expecting a new all time high to follow, which cannot be ruled out. Where that high may finally print is a guessing game, and the truth is that no one really knows.

About Pete Southern
Pete Southern is an active trader, chartist and writer for market blogs. He is currently technical analysis contributor and admin at this here blog.
Leave a Reply
You must be logged in to post a comment.
More In Currency Articles
More In Gold and Oil News
More In Shares and Markets