Gold Price Hitting New 6 Year High But Will It Continue?
Gold prices have been on a fantastic run higher for the last 4 weeks after a breakout of the early 2019 range. The breakout came with the speculation that the Federal Reserve may begin to lower interest rates after a period of hikes.
Whilst no rate cut has yet been implemented there are many commentators who think the next monetary policy meeting will see rates cut back. This is pushing the US Dollar down versus the major currencies such as Japanese Yen and Canadian Dollar, however it's intriguing that the US Dollar index still remains high, holding in the range of 2019.
Gold has surged on this interest rate speculation and a falling US Dollar; add into the mix a bit of uncertainty about conflict with Iran and we have a strong rise in everybody's favourite precious metal.
However, this rise could begin to be capped. Yesterday we hit a high of $1439 on Gold, the highest level for 6 years. In actual fact it just poked its head above the high of August 2013 at $1433, and consequently sold back off to close under it.
Here is the level shown on the monthly Gold chart below. This has to be the line in the sand for clues to further strength. A clean break above this high and Gold prices could be heading upward towards $1500 and above.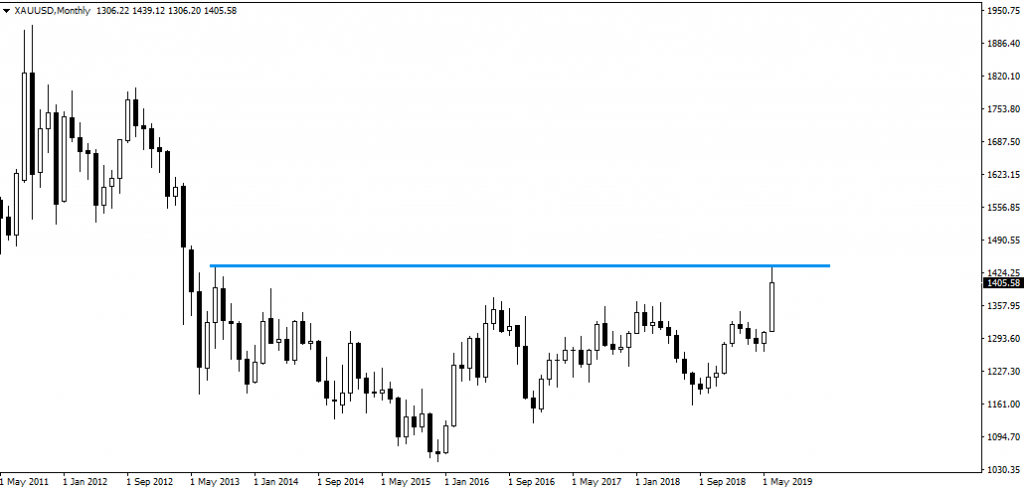 There is still a lot of reasons why Gold could head a lot higher in the next 12 to 18 months. Stocks are extremely high and a wobble on the wider market could see a flight of money into Gold. Also if the Fed do decide to cut rates we could see a period of further cuts over the next year or two, which again could fuel a higher Gold price.
For now let's enjoy the Gold rush and hope that mining stocks see a boom on these higher levels.

About Pete Southern
Pete Southern is an active trader, chartist and writer for market blogs. He is currently technical analysis contributor and admin at this here blog.