FTSE Weaker in Q2 But Looking For Support
Early Q2 exuberance on the FTSE 100 seems to have settled, and in predictable form the main UK index of large cap blue chips is retracing in order to find support. As is often the case during summer months, the FTSE 100 seems to be looking for a trading range until Q3 gets underway.
The index has already suggested a high for this range when it hit 7500 in April, which incidentally was the high of Q4 2018. Since then the index has remained weak, with Brexit and election politics taking centre stage and dominating the UK news.
The British Pound has been relatively static during the first half of 2019 so far. Holding a range between 1.3200 and 1.2600, whilst offering great trading opportunities this is quite a calm period for the pair if the last few years have been a yardstick to measure by.
It will be interesting to see how GBPUSD reacts to results of the upcoming European elections. Some senior politicians in the UK have going on record stating this vote is heating up to be a second referendum on Brexit, due to the polls predicting Nigel Farage and his Brexit party are making good ground. While the outcome of the vote has no bearing on the decision for leaving the EU, the feeling from the people towards the main two political parties is becoming apparent.
On the FTSE 100 the 7000 to 7100 area could offer some support moving forward into the second half of the year. On the chart there is a lot of congestion at this area, the clean break below it signaled the end of the 2018 bear move, and the zone was backtested twice during February and early March 19. See the chart below.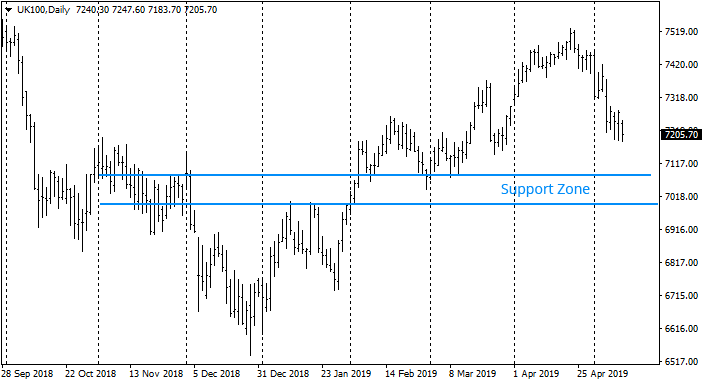 About Pete Southern
Pete Southern is an active trader, chartist and writer for market blogs. He is currently technical analysis contributor and admin at this here blog.