CAD: Canadian Dollar Strength and US Dollar Weakness
On the foreign exchange market Wednesday things began slowly. Mixed moves from the major currencies meant choppy trade until data from the West arrived.
Things became more volatile as the Bank of Canada (BoC) moved rates by 0.25 to 1%. This sparked some life into the Canadian Dollar, and in turn its US cousin. A swift move of over 250 pips ensued for the USDCAD pair, as it hit a low on the day of 1.2129.
Overnight weak trade balance data out in Australia couldn't really dampen the spirit of the AUD. Which held in the high range, 0.8000, against the US Dollar. That could come in to scrutiny today as US unemployment data arrives, and could breathe some life into the current weak greenback.
But today is all about the Euro. After midday UK time today the ECB will announce the minimum bid rate, and will be followed by a meeting and press conference. Draghi is most likely going to shed some light on the ECB's thoughts on the Euro, and a strong address could see some volatile moves as the US opens for trading.
The weakness in the US Dollar also helped Cryptocurrency Bitcoin gain some ground. After 4 down days, a little light relief came as the price of Bitcoin headed back towards the early month high.
From a technical perspective Bitcoin seems to have re-tested the previous high, possibly creating an area of support. If it can now go on to make a new high, then maybe just maybe this rally is not yet over. The chart below shows the level clearly.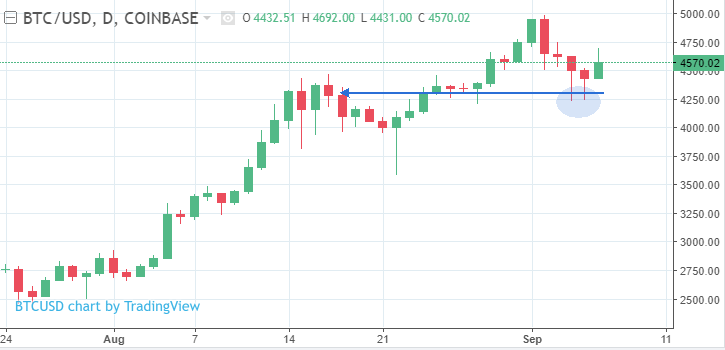 Ethereum was making similar moves, mirroring the strength in Bitcoin and aided by a weaker US dollar. Again the last two days have seen it make a back test of the early August highs, and is now making a move up once again. Whether new highs will follow remains to be seen.

About Pete Southern
Pete Southern is an active trader, chartist and writer for market blogs. He is currently technical analysis contributor and admin at this here blog.