Gold Prices Higher – Were You Watching?
Gold prices continued to push higher yesterday, as investors around the globe start to look for a safe haven, whilst stocks are at their highs. These surges have been fuelled by the uncertainty surrounding the events unfolding in Iraq, as the Iraqi army launched an offensive to take back the city of Tikrit.
While stocks around the globe continue to look very strong, with indices like the Dow Jones industrial average consolidating around their record highs, there seems to be some smart, but cautious investors slowly moving their money into gold. Gold is seen as a safe haven during uncertain times, and the fact that gold seems to have found a solid support above the $1200 level will be an encouraging sign for those who are currently selling into the strength of stocks.
During 2013 gold touched the $1200 level twice. The recent low in May could be seen as a higher low, as the price was bought before it could fall down to retest the 2013 low.
A recent spike up in Gold prices on the back of developments in Iraq, has now led to a break higher above the consolidation zone which followed. Any weakness in the stock markets may see the volume increase in these rises on Gold futures.
However before we can go all out bullish, there is one small obstacle to overcome. A simple line over the two peaks which were formed after each subsequent test of the $1200 support shows there may be a small resistance around the $1370 level. If this upward trend can continue then we may see this level tested sooner rather than later. Whether it breaks beyond this level we will have to wait and see.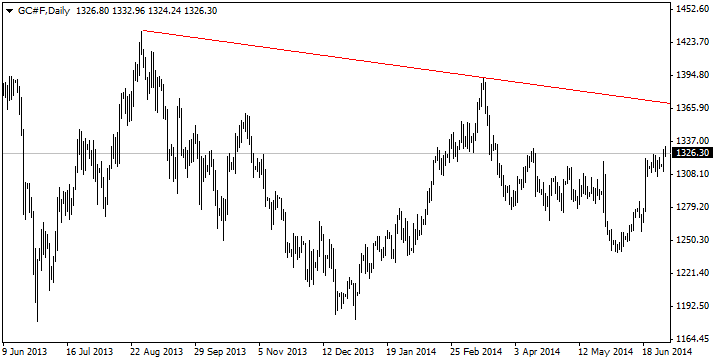 I would imagine even the biggest Gold bears will shed their winter coat when that resistance line breaks. In the meantime it was going to be an interesting few weeks if we continue to crawl towards at level.

About Pete Southern
Pete Southern is an active trader, chartist and writer for market blogs. He is currently technical analysis contributor and admin at this here blog.
More In Currency Articles
More In Gold and Oil News
More In Shares and Markets