Are Gold Prices Poised To Make More Gains?
Yesterday seen the first down day for Gold prices this week, after an official from the Federal Reserve started that interest rates in the USA may be increased earlier than had been expected by the markets. This announcement stopped Gold bulls in their tracks in the short-term, but the question remains are Gold prices poised to make a significant move higher?
The fundamentals are mixed. As stated, interest rate raises may dampen down any rise. However, the uncertainty around the globe for conflicts sparking off deployment of military forces remains in the forefront.
Gold is seen as a safe haven for investors in times of troubled market conditions. If the situation in Iraq worsens, or Ukraine, then a mass move from stocks to Gold may begin. And with stock indexes at record highs, the fall could be swift and fast.
Gold Technical Analysis
The technical analysis points to an undecided position. But there is a call to look at the current chart formation as bullish. Since the huge one day spike last week (19th June) Gold prices have consolidated near the high. If this was a weak move, built on speculation, then this rise may well have been retracted somewhat by now. Gold has a habit of attempting to reverse any spikes soon after they occur.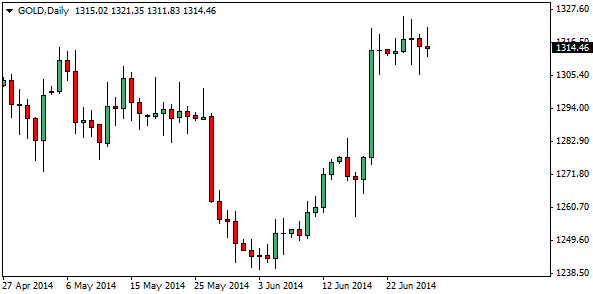 However, the price of Gold has held firm, which could suggest there is some strength and purpose to this move. If there are any further murmurings on Iraq and military involvement we may see price increase slightly further. There is a strong case for the $1400 level on Gold to be re-tested.
Whether this is the start of a sustained rise in prices is anyone's guess. But I would be leaning more towards the technical analysis, rather than fundamental analysis, when uncertainty in the market and nervous investors come into play.
My personal opinion is (and this is not investment advice, I may be wrong!) that if the price doesn't retrace the spike over the coming week, there may be some volume in the next attempt higher. I guess we will have to wait and see.

About Pete Southern
Pete Southern is an active trader, chartist and writer for market blogs. He is currently technical analysis contributor and admin at this here blog.
More In Currency Articles
More In Gold and Oil News
More In Shares and Markets