GBP Falls After "No Raise" Statement On Interest Rate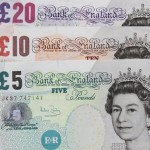 The Pound fell against the majority of its peers yesterday after the Bank of England said that it was in no rush to raise interest rates and failed to revise its growth forecasts for the coming year as economists had expected. Positive unemployment data was overshadowed by disappointing wage growth figures. With a lack of UK data today we could see the Pound soften further if events elsewhere weigh upon the currency.
US Dollar
The US Dollar advanced to its best level in 3-weeks against the Pound yesterday after comments made by the Bank of England weighed upon the UK currency. The 'Greenback' found some support from data which showed that applications for mortgages increased last week, easing some of the concern over the US housing market. Economists are expecting today's US jobless claims, manufacturing and industrial production data to add to signs that the world's largest economy is continuing its recovery.
The Euro
The Euro softened slightly against the Pound and US Dollar after data showed that growth in the French economy stalled in the first quarter of the year. The German economy meanwhile grew more than forecast highlighting the disparity between the Eurozone's top two economies. GDP data for the wider Eurozone as well as inflation data will be closely watched today as weakness in either could cause investors to raise their bets that the European Central Bank will introduce new stimulus measures at next month's policy meeting.
Australian Dollar
The 'Aussie' edged higher against its peers as investors wait for today's US data releases. A stagnant new car sales report had little impact on the currency. Official data showed that new car sales in Australia were flat last month.
New Zealand Dollar
The New Zealand Dollar remained firmer against several rivals despite the release of disappointing manufacturing data. Business New Zealand's performance of manufacturing index dropped to 55.3 in April, down from the 58 recorded in March and well below forecasts for a rise to 58.4.
Canadian Dollar
The Canadian Dollar edged higher against several counterparts due to a rise in commodity prices and increased demand for perceived riskier assets. The price of crude oil, Canada's biggest export, climbed to its highest level in three-weeks.
South African Rand
The Rand is little moved from yesterday's levels as it remained supported by increased risk appetite. Continuing violence in the South African platinum mining belt and events in Ukraine could still weigh upon the Rand.
Disclaimer: This update is provided by TorFX, a leading foreign exchange broker, its content is authorised for reuse by affiliates.

About Pete Southern
Pete Southern is an active trader, chartist and writer for market blogs. He is currently technical analysis contributor and admin at this here blog.
More In Currency Articles
More In Gold and Oil News
More In Shares and Markets