The FTSE 100 Bounces Back – Now Eyes Are On The Fed
Following on from a strong session in the USA overnight, the FTSE 100 gained in early London trading, adding 40 points within the opening hour. Leading stocks were mainly from homebuilders, ARM Holdings and Standard Chartered.
The Nasdaq gained during a positive session after its worst few days in around 3 years. Also holding strong were Asian markets, with Japan and Australia announcing they are finally agreeing to sign the trade deal which would reduce the tariff on certain products. This has been in the making for 7 years, and should see an increase in trade between the two nations.
Later in the US today, we have the FED releasing minutes of its March meeting where it is anticipated that stimulus tapering will again be the main focus. Their commitment to improving the labour market will also be touched on, Janet Yellen had this to say last week on the subject.
"The banks extraordinary commitment to improving the labour market is still needed and will be for some time, and I believe that this view is widely held by my fellow policymakers at the Fed".
So for now, all things look (reasonably) stable in the UK markets. Although the FTSE 100 seems to have lost some of its momentum, the trend is still firmly in place. Looking at the chart below we can see that there is a strong resistance overhead, which may cap more gains until late summer, but also a strong upward trend, which may need to be well and truly broken before the bears take control.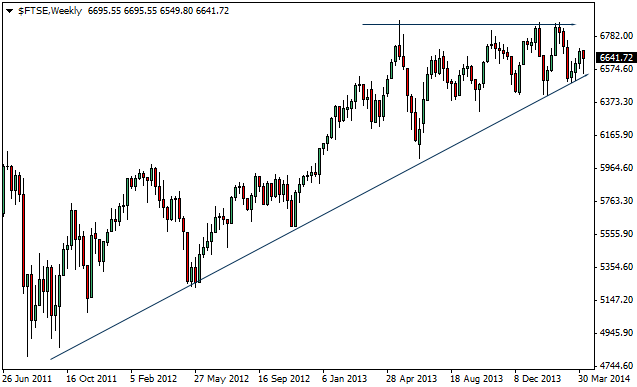 Quite possibly, we are looking at a drawn out range of trading over the next few months as investors and markets decide on the next move. To break this trend or resistance we may need some market moving news, possibly some interest rate talk, or increased stimulus of which we are not aware, from either the US or Europe.

About Pete Southern
Pete Southern is an active trader, chartist and writer for market blogs. He is currently technical analysis contributor and admin at this here blog.

More In Currency Articles
More In Gold and Oil News
More In Shares and Markets