Gold and Silver Prices Continue to Creep Higher
Gold and Silver prices continued to push towards their recent highs yesterday, aided by the US Dollar which began to slide further away from the 2018 highs. Gold has been on a run lately, after breaking through the 1230 resistance area following the end of November Non-Farm Payroll report.
Currently the gains in Gold and Silver prices are being supported by a Dollar weakness across the board. Versus the Japanese Yen; USD made most losses, in just two days the price has fallen over $1, although against CAD (which has also been weakening) it remained relatively stable.
Weakness in stocks can often see Gold begin to gain, and currently stocks have been very weak. It's actually quite surprising that Gold and Silver have not gained more, considering the money that has been pulled out of stocks. Maybe that's a sign that the stock market is simply correcting (money waiting to buy back in) rather than crashing (money running scared to other investments). I'm sure we will soon know as January and a new year approaches.
For now Gold needs to break, convincingly, above $1250 and hold. As you can see on the chart below $1250 is the last recent high, and also the area in the downtrend that broke down during the early summer slide.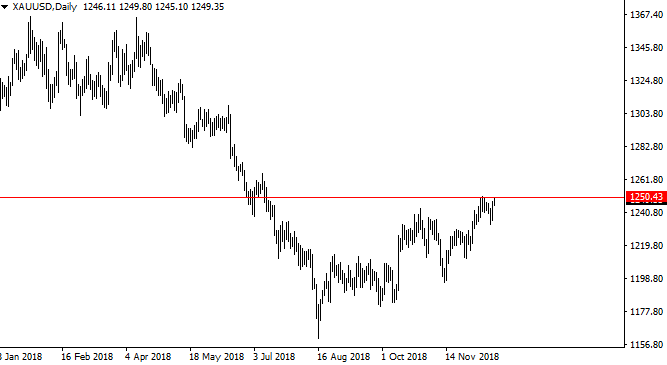 If the US Dollar remains weak into the end of the year then it's entirely possible we will see that break above. However there is a strong trend-line on the US Dollar index below which is will need to break before and sustained Dollar weakness can occur.
See the neat and tidy upward trend that the US Dollar has been navigating since early 2018?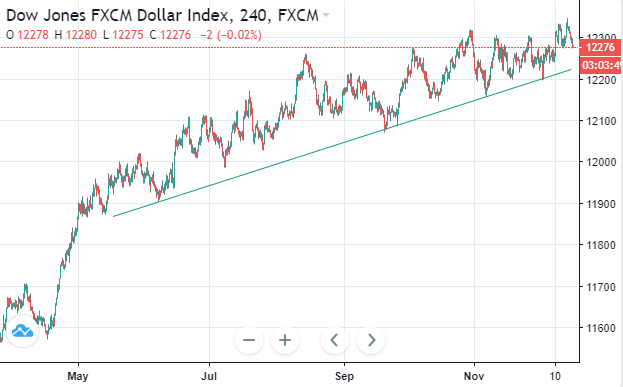 It will probably take a shift in monetary policy to break this trend. But with Donald Trump at the helm, I am sure there will be news to help swing things around soon enough.

About Pete Southern
Pete Southern is an active trader, chartist and writer for market blogs. He is currently technical analysis contributor and admin at this here blog.
More In Currency Articles
More In Gold and Oil News
More In Shares and Markets