Is Crude Oil Set to Bounce After a Month of Falls?
It's fair to say that Crude oil and Brent oil prices were under serious pressure for the whole of October. Brent oil retraced around 18% from the high of the 4th October, which helped fuel a wider market sell off.
Brent is now trading around the levels of July and August 2018, which held firm as support after the first half year gains.
From a technical perspective the $70 (ish) level should offer some support in the near term, but investors should be aware that oil prices have risen near 100% in 18 months.
The chart below shows the key level traders will be watching.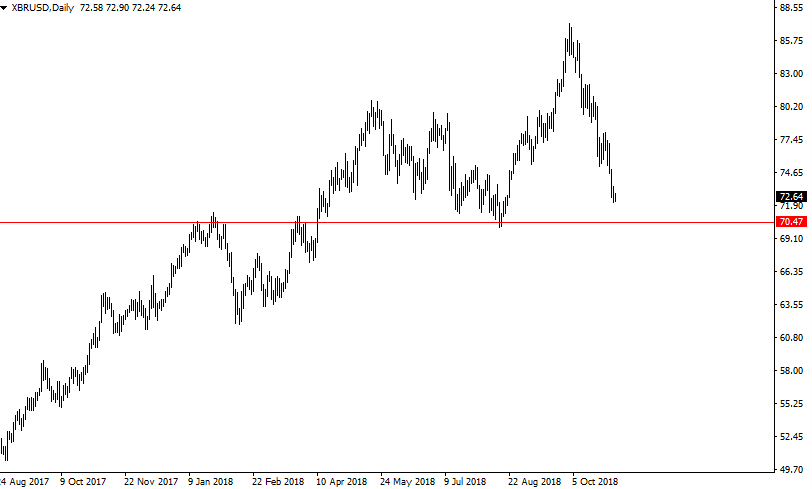 We could see a bounce based on news, and there's plenty of that to digest.
The situation with Iran and Donald Trump seems like it will only snowball further.
Added to that we have sizable increases in production which have helped push prices lower.
OPEC and the U.S have been behind these increasing numbers, in October OPEC switched their oil production to the highest levels seen since 2016, and the EIA published levels for August that showed a considerable month on month increase.
For now, traders are awaiting this weeks numbers. A slowdown in productivity may help Brent and Crude prices stabilise above the August support.
But a breakdown through that area will be a huge signal for the bears to take further control.
It's all gearing up to be an interesting few weeks in November.

About Pete Southern
Pete Southern is an active trader, chartist and writer for market blogs. He is currently technical analysis contributor and admin at this here blog.
More In Currency Articles
More In Gold and Oil News
More In Shares and Markets