Gold Price at 12 Month Lows with Non Farm Payrolls to Land
After several negative weeks and months Gold prices are sitting at their lowest point in over a year. The Federal Reserve opted to hold rates on Wednesday which seen Gold sell off further and approach this very important level of $1200.
The US Dollar remains strong, as it has since early April this year, whilst the British Pound and Euro continue to fall. Stocks are also in a bullish phase, so it seems that investors don't want to have their money held in the so called "store of value" any longer.
Today we have the monthly Non Farm Payroll data in the USA. This is always a volatile session and has been the catalyst for major reversals in stock or currencies many times over the years.
It's an insight into the current state of employment in the USA and followed by many.
With this in mind, it's maybe no surprise that the current Gold price is sitting right at a 12 month low on the day this data is released. Nice manipulation!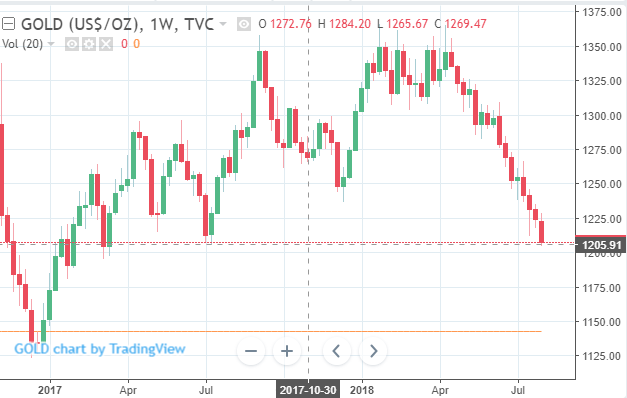 If Gold is going to be bullish during the second half of 2018 then in our opinion this is the level it needs to hold. A volatile spike for an hour is often followed by a direction which tends to be where the market wants to head over the coming days and weeks.
Ideally for Gold bulls, a sharp spike down to clear out speculation before a strong reversal is the pattern needed. Conversely bears may want to see a spike higher to suck in new money before plunging to new lows for the year.
We hope it's the former rather than the latter scenario that plays out. Gold needs some life.

About Pete Southern
Pete Southern is an active trader, chartist and writer for market blogs. He is currently technical analysis contributor and admin at this here blog.
More In Currency Articles
More In Gold and Oil News
More In Shares and Markets