Gold Prices Jump On Further Rate Increase and Forward Guidance
Gold prices jumped $30 from the lows after the FOMC rate increase of 25 basis points. Along with what was a largely expected rate hike, the Fed hinted that rate increases may continue in a steep upward curve over the next few years.
Alongside the hike came comments that the Fed intended to sound hawkish without causing to much disruption and the inflation target remains at the stated 2%.
The FOMC comments were, "near-term risks to the economic outlook appear roughly balanced, but the Committee is monitoring inflation developments closely,"
The US Dollar promptly moved down in a sharp move, as is often the case on these FOMC days. Gold prices reacted to the upside sharply and they are now consolidating at the highs in early UK trading.
Gold has got that 2018 resistance in sight. The early year highs of $1360 area seem like an obvious place for the price to try test investors appetite for higher prices.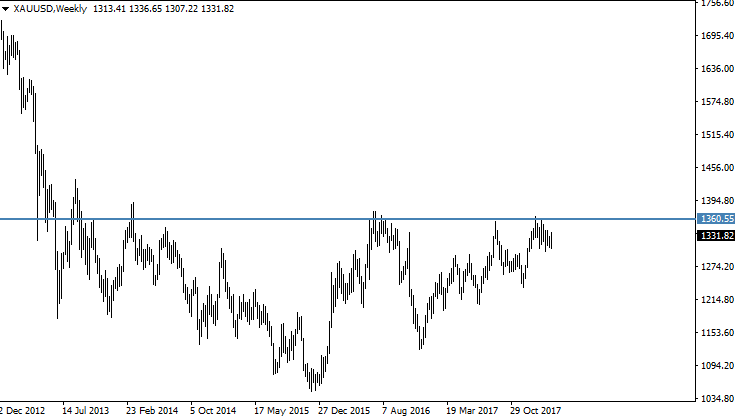 If Gold breaks out above those highs and can continue to be strong then the $1500 area could be a target.
Gold has not been able to reach this area since early 2013, and to break free of the constraints of the last 5 years would be a significant move, not only for Gold traders but for mining and metal stocks.
As we suggested last week here, mining stocks have been lagging behind what is a relatively strong Gold price this year.
A break of resistance into a new higher trading range could be just the tonic for those weary miners, who incidentally have not been doing too badly in terms of profit. Its sentiment which is holding them back and a higher Gold price will set the tone for new money to pile into the sector.
It could be the investment story of 2018.

About Pete Southern
Pete Southern is an active trader, chartist and writer for market blogs. He is currently technical analysis contributor and admin at this here blog.
More In Currency Articles
More In Gold and Oil News
More In Shares and Markets