Ibex Rally Continues After Weekend News On Catalan Region
The Spanish Ibex index has made some incredibly strong moves since Monday. After the announcement by the Madrid government to remove the power of the Catalan leaders which held the "illegal" referendum on independence.
From a close down below 10,200 on Friday the Ibex index has moved steadily higher to near 10,600 in early trade on Tuesday.
The move by Madrid to remove the power of the Catalan government is seen as bullish for stocks which were being held back by uncertainties surrounding the issue.
Kathleen Brooks, from City Index said: "Spanish markets are in recovery mode at the start of this week. Although this is a fluid situation there are a few things that are keeping the markets calm, which is why EUR/USD is back above 1.16 and the Ibex is the best performer in European equity markets".
With the DAX index heading towards new all-time highs and the FTSE 100 consolidating up near October highs, it would not be beyond the realms of possibilities at the IBEX index could continue up much higher over the coming months.
The Ibex made an all-time high up above 11,000 in early summer. If the pattern of other stock indexes is to be followed then the ibex could play catch up fast. Especially if the news continues that Madrid is to create stability in the region.
Here you can see on the daily chart the down trend line that has clearly broken, and the all-time high above. Whether it heads straight there remains to be seen.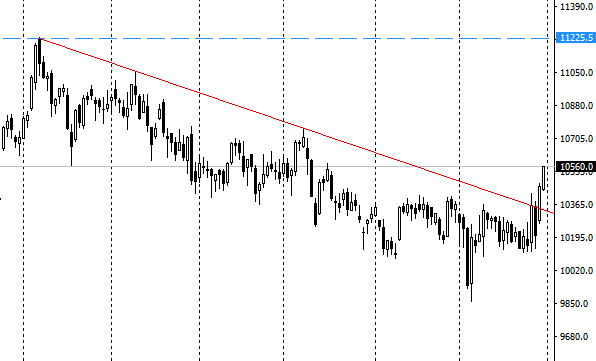 One thing is for sure is that this volatility will continue for some time yet, and you could find some excellent trading opportunities along the way.

About Pete Southern
Pete Southern is an active trader, chartist and writer for market blogs. He is currently technical analysis contributor and admin at this here blog.
More In Currency Articles
More In Gold and Oil News
More In Shares and Markets