Opec Trying To Put Some Support Into Oil Prices
This week began in much the same fashion as they left last week with Oil prices rising. Expectation of a cut in output from OPEC, which could extend into 2018, pushed Crude Oil higher on the futures exchanges. In early trade UK on Tuesday, Brent Oil had fallen back from it's high, but still remains over $5 higher than the early May low.
Oil prices have also been aided by a falling US Dollar, which has been on a steady downward trajectory for the last 10 days.
Market commentators are wary of the output cut talk, with many waiting to see the outcome of the Opec meeting on Thursday. Analysts state that they are not too sure how far OPEC can actually cut, whilst global demand is somewhat subdued, and US shale production on the rise. But we shouldn't underestimate the need for OPEC, and particularly Saudi Arabia to keep Oil prices up and around the $50 per barrel mark.
In the short term there are now some clear points on the charts for some support and resistance. Below us, just above the $50 round number, and above us at the high of Monday.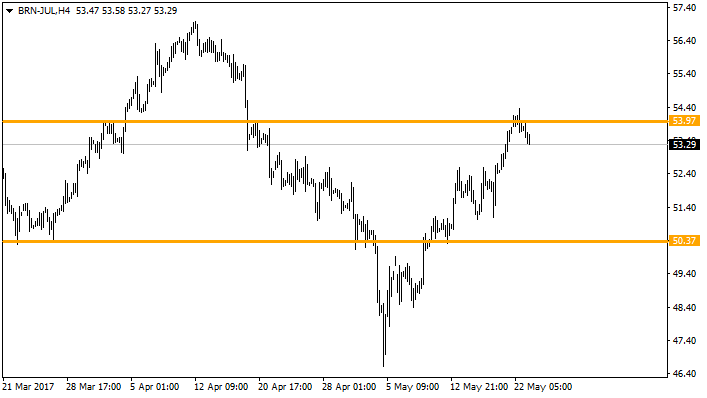 It seems that each time Oil prices manage to gather some downward momentum, to under $50, that OPEC springs into action. This is set to continue (no doubt) into 2018, and many analysts comments are suggesting that prices are set to rise into 2020 and beyond as supply will not match the pace of demand, even in the face of greener energy sources.
There has been a lack of investment into Oil industries over the last two or three years. Obviously there will need to be a period of catching up. Demand will still be high, but supply may not reach the expected amounts for a while. This has fuelled comments from leading sources stating higher prices for Oil, and many other commodities into the early part of the next decade.

About Pete Southern
Pete Southern is an active trader, chartist and writer for market blogs. He is currently technical analysis contributor and admin at this here blog.
More In Currency Articles
More In Gold and Oil News
More In Shares and Markets