Oil Prices: How Much Further Will They Let This Slide?
Oil prices are heading back down it seems. After spiking to a high above $54 on the basis of a cut in production by Russia and other countries after the OPEC landmark deal, it's been falling steady. There's already a concern on trust in the statement from OPEC if it will adhere to what it says.
The IEA stated that IF the cuts go as planned: "Oil stockpiles will decline by about 600,000 barrels a day in the next six months as curbs by OPEC and its partners take effect".
That is all well and good. But the question remains can the Oil producers be trusted to deliver on this pledge? Its common knowledge that both OPEC and non-OPEC oil producers are unwilling to cut, and unwilling to co-operate. In addition the latest report from the IEA showed that Oil was flowing at full throttle during November.
So while the picture remains cloudy, where we stop to the downside is a bit of an unknown. We know that all producers want to stabilize oil prices. Nobody really wants oil back at the 2016 lows for a sustained period of time. Which begs the question, where is the support?
The chart below shows a trading range, which is ever so slightly pointing upward. You can clearly see why the high retraced from where it did, and with oil being an instrument that likes to retest its supports, the lows or bottom of range should be reached soon.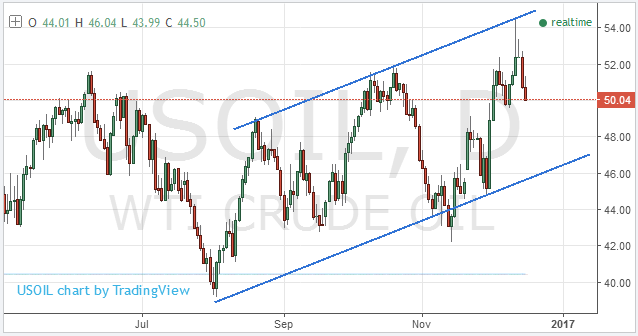 If the low channel line isn't hit, then it's possible that a round number such as $50 or $48 may be the target. At some point buyers will appear, watch for volume on any quick spikes back up. Bounces coupled with volume signal where the traders see value, and can often offer a medium term support.

About Pete Southern
Pete Southern is an active trader, chartist and writer for market blogs. He is currently technical analysis contributor and admin at this here blog.
More In Currency Articles
More In Gold and Oil News
More In Shares and Markets