Gold Prices and Where Next At This Resistance?
Gold gained good ground over the last week, after an early October fall through support. However, the fall stalled and found a base around the mid-point of the February to May range. Gold mining stocks had seen a phenomenal run, with some of the big players up over 200% and more from early 2016 lows, most pulled back strongly in-line with Gold prices.
So what is next for the metal we all love?
The current up-trend was abruptly halted yesterday by the FOMC monetary policy. There was no rate shift, and added a little hint that the next hike could come next month, but for now Gold touched the underside of the support that broke in October and may consolidate below for a while.
To make a break through this level, which could end up being quite a strong resistance as proven before, it may take a data shock or an "election" shock. Surely a Trump victory would be the catalyst to propel the Gold price to new highs for 2016. There's not too long to wait.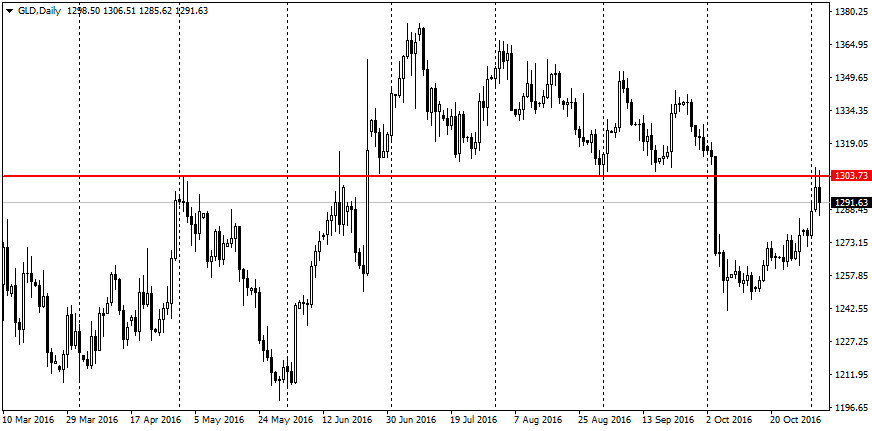 The chart above shows the line in the sand that needs taken out before Gold can make any decisive move higher. It was tested twice before it was smashed on the Brexit vote, and here we are again, after our first re-test.
Could the shock of Donald Trump winning the election be the next "Brexit" spike for Gold?
Quite possibly. Until this last week Trump had been lagging in all the polls. Most people were of the thought school that Clinton should walk this election "no problem". But Brexit shows that this type of thinking can be wrong when the people really want change.
It would be a shock, and uncertainty will follow. No doubt Gold would rocket, back to the highs, and possibly beyond as time moves by.
The only piece of data before then which has the potential to shift the Gold price higher is the Non-Farm Payroll data on Friday.
On 3rd of June the NFP data came in below forecasts by a huge amount. It was forecast for 159k and actual landed at 38k.
This saw Gold rocket from the 3 month low to above $1300 during the next two weeks preceding the Brexit vote. If NFP is skewed again, maybe Gold will set off on a run before the election, although it could be somewhat subdued following through until next week is out of the way.
Either way there are some interesting days ahead for those who follow Gold.

About Pete Southern
Pete Southern is an active trader, chartist and writer for market blogs. He is currently technical analysis contributor and admin at this here blog.
More In Currency Articles
More In Gold and Oil News
More In Shares and Markets