Are Gold Prices Set To Head Higher?
2016 has seen a lot of strength return to gold prices. In fact since January gold has increased by around $200 per ounce. What many investors are thinking now is can these prices be sustained for the rest of the year? In recent history quick spikes have usually been followed by sharp falls, however things seem to be a little different this time.
Prices have not fallen sharply this time round, and seem to be forming some support around $1200 level. This could be the catalyst for a test of higher prices.
Traders in gold were buoyed by the hints from the Fed that a rate increase may not be on the cards in the near future. Although this isn't set in stone, many are now thinking that rates will not increase until the late quarter of 2016.
Coupled with increasing uncertainty in the stock market, then it's not hard to see why investors are flocking to gold. You only have to look at some of the large players in gold mining such as Barrick Gold (ABX) or Newmont Mining Corp (NEM) to see that investors piling the money back in the long bets.
Then there is also the technical perspective, if you take a look at the chart below you can see that this recent rise broke not only the downtrend line from the last two years, the recent consolidation has held firmly around the 2014 support level.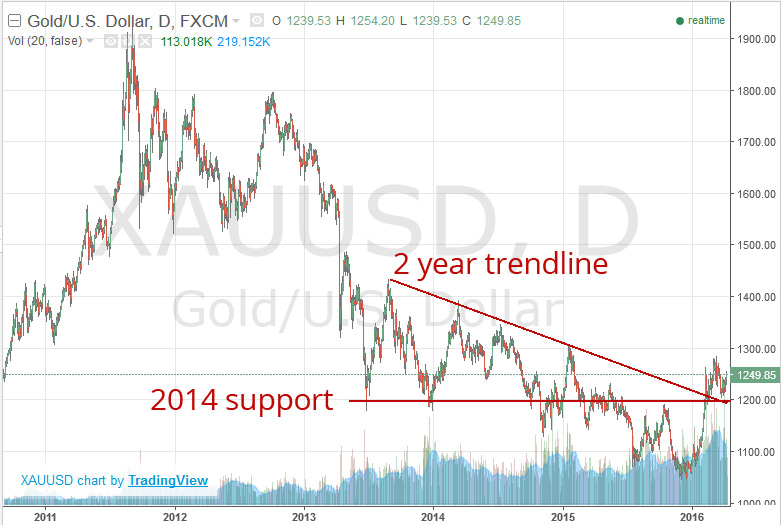 Gold holding above these important levels on the spot gold chart is a bullish sign. There may be further upward pressure ahead if the stock markets remain volatile and investors turn to gold as the safe haven it has always been.
Key points to watch would be a break to the downside under $1200. Below the support area from 2014, then it may create a small panic sell-off. There are many investors who yet convinced that gold is strong enough to continue upward, and risk is always around the corner.
To the upside break above $1300 would be a huge bullish sign, and may open the floodgates for some serious money to pile back into gold.

About Pete Southern
Pete Southern is an active trader, chartist and writer for market blogs. He is currently technical analysis contributor and admin at this here blog.
More In Currency Articles
More In Gold and Oil News
More In Shares and Markets