Oil Prices Consolidate Ahead Of Todays Inventories
Crude oil prices continue to consolidate above the $104 per barrel level, with tensions in Iraq and Ukraine creating a nervy marketplace for the black stuff. The sliding price of the US dollar is also helping the cause, with the dollar hitting new lows versus many of its major counterparts.
Whilst the situation in Iraq continues to remain volatile, crude oil will likely remain up above this level. Adding extra fuel to the fire today could be the weekly crude oil inventory data, forecast to be -2.2 M. If the data misses this expectation then we could see some volume pushing the price higher.
For the main part I would call crude oil bullish whilst it remains above $104 level, any swing below this may see a momentum shift, but while prices remain strong there is a strong call to go and test levels higher up, possibly above $110.
A quick look at the daily chart shows where this current strength has come from. There is a large rising triangular pattern which has formed since the early 2014 low. As you can see the resistance line across the tops has now been broken, and price is consolidating. To me it seems that crude oil is building up some energy here ready for a burst in either direction, but the technical analysis is pointing to higher prices right now.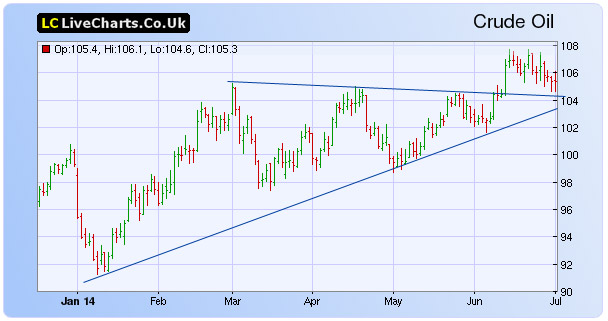 Quite often we see money shift from stocks into gold and other commodities during uncertain times. Although stock indexes such as the Dow Jones industrial average are constantly pushing new highs, there is a feeling among some investors that a correction is well overdue. With gold, oil and other precious metals starting to show some early signs of strength, this could be a warning to those who think the markets will continue up forever.

About Pete Southern
Pete Southern is an active trader, chartist and writer for market blogs. He is currently technical analysis contributor and admin at this here blog.
More In Currency Articles
More In Gold and Oil News
More In Shares and Markets