SXX Share Price: Global Potash Exploration Loses Investor Attention
Sirius Minerals is listed on the London Stock Exchange's AIM market. It is a small, but intriguing, Potash exploration and mining company. Of late, SXX share price has been on a slow and gradual slide from its 2014 high of around 0.15p. But why is this and what has this company got to offer?
Firstly, for those who may be unfamiliar with Potash, it's basically a mineral made from Potassium and is often mined from areas where there's large deposits of clay and heavy soil. It's a member of the alkali metal group and is relatively common in nature.
View the latest SXX Share Price and get your free personal share watch list »»

As for finding this mineral in the UK, the Sirius website states , "The only known Potash resources in the UK occur in the Zechstein deposits of Upper Permian age in the southern North Sea basin. The Zechstein basin is believed to have originated as a complex inland drainage basin whose floor lay up to 250m below world sea level at a time when this area lay close to the equator."
Aside from Potash research and exploration, Sirius is also heavily involved in Polyhalite mining. Polyhalite is a mineral which comprises of a composition of potassium, calcium and magnesium. The mineral is to be used as unique type of fertilizer.
Steady Positive News Halts
The SXX share price was enjoying a strong period during 2012/2013 when positive news was consistent. During this period, Sirius announced it increased its resource estimate by 70%, it signed an agreement with Keytrade AG in respect of its Polyhalite business, which all led to the price holding firm, ranging between 15p and 25p. However the recent slide, which started mid-2013 has yet to be convincingly halted.
The slide started with doubts being raised over the viability of its York potash project. Firstly the company deferred a decision on its plan for mining, with Sirius chief executive stating, "It's right that some extra time is taken to enable a robust decision to be made by the National Park members. We will continue to work collaboratively with the authority, its consultants and all the key statutory agencies to address the issues that have been raised."
This was soon followed up by an announcement that Sirius was about to challenge the statements made by AMEC, that there was not a significant market for Polyhalite. All this threw an uncertain curve ball directly at investors, and the price started to decline quite rapidly.
The Chart Shows a Picture
In the chart below you can see when this uncertainty started.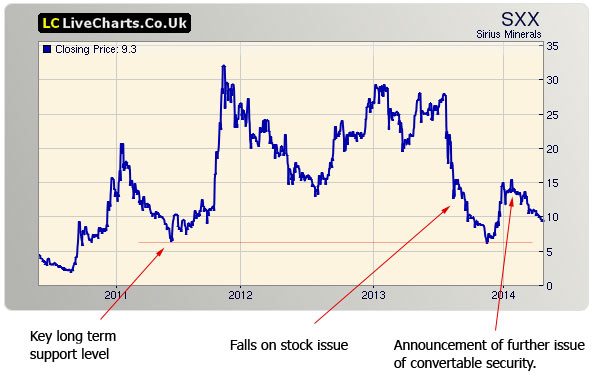 You can also see there is a clear support level at around 5p for SXX share price. Since the start of this decline there has also been new stock issued. Dilution of the company is quite possibly the reason why any rises will be held back over the short term. We can see in the chart above that the 15p area could not be breached before the announcement of another dilution. This time to raise £30 Million at a 12p placing.
Overall, I'd say this company was speculative, but interesting all the same. If they can gain back investor confidence by using the equity from stock issues wisely, then previous track record suggests they may come up trumps. It's worth adding this one to your watch list and keeping an eye on the news.
Disclaimer: Author holds no interest in this company.

About Pete Southern
Pete Southern is an active trader, chartist and writer for market blogs. He is currently technical analysis contributor and admin at this here blog.
More In Currency Articles
More In Gold and Oil News
More In Shares and Markets