UK Markets Reverse, Results Round-Up 14th May
It was a day of a straight reversal on the main UK markets Friday, with an early fall being retraced back into the late afternoon with the FTSE 100 closing up at 6138.50. A slight bit of strength in Crude Oil towards the end of the session helped add to gains.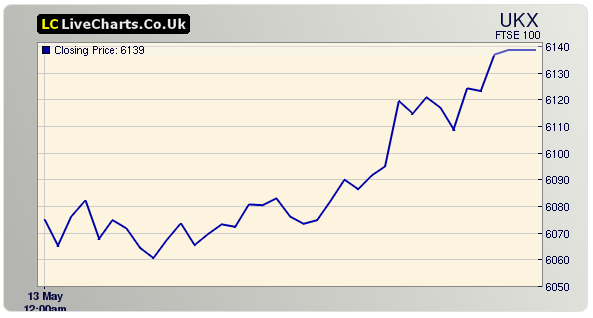 Some results were out on the day, here's a round-up of a few notable picks.
Jersey Electricity PLC (JEL) published a half yearly report showing a 2% rise in group revenue compared to the same first half of 2015. Profit before tax was behind the same previous period at £7.9M but the group quoted it, "remains at a level commensurate with a sustainable rate of return typical for a regulated utility and at a quantum needed to maintain our continued investment in infrastructure."
However, net debt rose during the half year to £21.1M compared to £17.5M for the previous year but additional banking facilities are in place to fund continued investment.
Serabi Gold (SRB) the AIM Listed Gold and mining development company that operates mainly in Brazil, released interim financial results for the three month period ending 31 March 2016. Gross profit increased to $3.77M, that's a 140% change from the $1.57M reported last period.
Post tax profit was reported at $1.35M, up compared with $0.19M for the same quarter in 2015. Earnings per share increased to 0.195 cents, and they have cash holdings of $4.4M as of March 16. SRB share price gained 16.67% on the day as traders were buoyed by the results.
32Red Plc (TTR) issued a trading update that reported very strong revenue has remained across the group's portfolio of products. The company stated, "The Company's like-for-like net gaming revenues for the first nineteen weeks of the year to 11 May 2016 is up 39% on the same period in 2015 and up 71% including the contribution from Roxy Palace. The Board is pleased with this strong trading momentum and remains confident of delivering its expectations for the year."
Along with this update they also announced an agreement of sponsorship of Leeds United Football Club on a 3 year deal, commencing for the 2016/17 season. They will be short sponsors, and branding on stadium and digital platforms.

About Pete Southern
Pete Southern is an active trader, chartist and writer for market blogs. He is currently technical analysis contributor and admin at this here blog.
More In Currency Articles
More In Gold and Oil News
More In Shares and Markets