Gold Prices Spike Higher On Increased Israel Tension
Once again we see Gold prices are starting to creep higher. If you have been following my recent comments, this should be no surprise, but increased unrest in the Middle East and not even a hint of information on when interest rates may increase in the USA has given the green light to further gains.
Firstly, in addition to the situation in Iraq and Syria, we now have Israel in conflict. Rockets are being fired on a regular basis between Israel and Gaza, after a quick escalation in violence over the last week. Rumors are a ground offensive could be on the way from Israel, and it seems they are not ready to back down this time.
A CNN reporter stated: "Israeli President Shimon Peres said a ground offensive might happen "quite soon". The army has called up about 40,000 reservists."
Back in the USA, the meeting minutes from the FOMC were released, with no new guidance to when interest rates may start to rise. As we well know, high interest rates can be factor in a lower Gold price (but not always). The Fed did state however it may end the monthly Bond buying program in October.
Gold bulls will be keeping a close watch on news from the Fed as the rise gathers pace, especially when we get near to the overhead resistance. It seems certain this level will be tested sooner rather than later.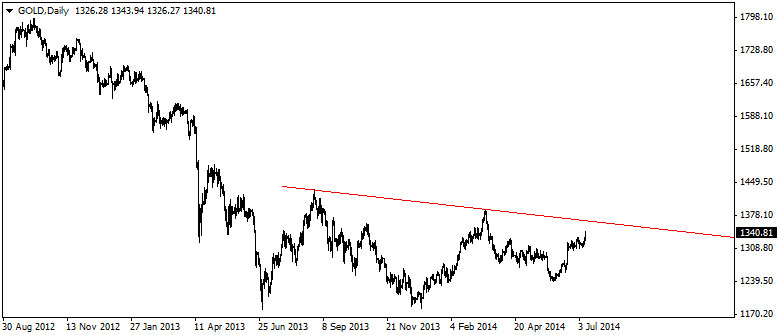 I would suggest that this line will only be smashed if there is increased escalation in the Middle East. Nervy stock markets will always pave the way for Gold to make good gains in price. With clear space above that resistance, Gold could well go on to retest the $1500 level when (or if) that line breaks.
For now, stay tuned to Gold, it will be an interesting ride.

About Pete Southern
Pete Southern is an active trader, chartist and writer for market blogs. He is currently technical analysis contributor and admin at this here blog.

More In Currency Articles
More In Gold and Oil News
More In Shares and Markets