Lloyds Share Price: JPMorgan Chase States "Overweight"
Lloyds Banking Group has been having a reasonable run of form in its share price of late. Research reports from analysts such as Nomura have recently upgraded the company to a "buy" rating. However, today it emerged that equity research at JP Morgan Chase have changed their stance on the company to "overweight".
Lloyds share price opened today at 74.79p, around 12p from the 52 week high of 86.30p. In spite of this (slightly) negative news, the stock has enjoyed a bullish period lately, with many investors and analysts hoping for a turnaround in the price moving forward.
Just last week technical analysis from Recognia stated, "The price is generally in an established trend for the time horizon represented by the moving average period (21, 50 or 200 bars)."
Whilst the technicals are looking favourable, there are still some other issues raising eyebrows. Just a couple of week back it was announced that private investors in Lloyds have agreed a bond buyback, according to Reuters, "Lloyds said earlier in April that institutional investors had agreed to exchange 5 billion pounds worth of the instruments, known as enhanced capital notes, for new bonds."
View the latest Lloyds Share Price and get your free personal share watch list »»
Also the Global Head of Foreign Exchange, Darren Coote, recently left his position in the group. This may turn out to be a buffer on the FX division, for which we know is an area of growth for Lloyds, and one where they have been focusing a lot of effort into maintaining.
However, even with all this uncertain news, the chart shows that the price of Lloyds shares are holding firm with the rise from mid-April. Maybe we have seen the bottom for now, and the price will form a support above the 70p mark? Only time will tell but Lloyds are certainly the company to watch, for direction in the banking sector right now.
Current Chart For Lloyds Banking Group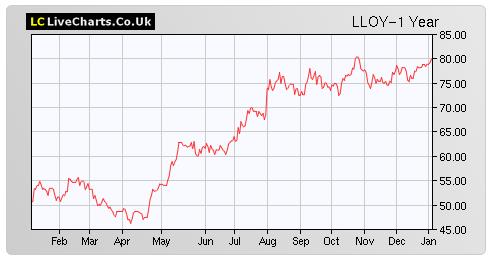 About Pete Southern
Pete Southern is an active trader, chartist and writer for market blogs. He is currently technical analysis contributor and admin at this here blog.
More In Currency Articles
More In Gold and Oil News
More In Shares and Markets