GKP Share Price: Is This A Slide That Can Be Stopped?

Recently Gulf Keystone Petroleum announced settlement of $250m in debt financing. However, the announcement did not bring back investors as GKP share price remains near the multi-year low, and at 92p at the time of writing.
Once a star for many market commentators, GKP is a Kurdistan based Oil firm which has recently announced a narrowing of losses to $31m from $81.8m in 2012. Since the heady days of 2012 when the price spiked to a high above £4.00, GKP share price has slowly declined and with a recent dip in the early part of 2014 it now stands at around 90p per share.
View the latest GKP Share Price and get your free personal share watch list »»
Factors that contributed to the highs in the price were speculation on a takeover and positive results from its exploration activities in the Shaikan Oil field. Since then the company moved from London Stock Exchange's AIM market to a main LSE listing in the Oil and Gas sector.
Dilution seems to be the main worry from investors at the moment.
The company looks to be placed well in the world class Shaikan Oil field, and announced it is shifting Crude Oil via the new Turkish pipeline. With the price of Crude Oil holding firm up around $100 a barrel, prices are still strong, and could firm up more if unrest in the Ukraine escalates.
However, the issue of debt refinancing is hot on investors lips, with the freely tradeable and detachable warrants relating to 40 million common shares in the company.
A quick look at the chart shows the strong slide into 2014.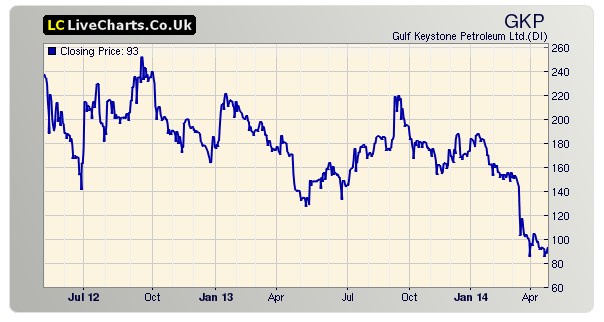 Maybe now that the debt refinancing is out of the way, GKP share price may begin to recover. Uncertainty plays a large part of any market price. Even if news isn't naturally positive, getting rid of uncertainty can give a clear focus on what lies ahead.
Overall I'd call this company speculative, but very interesting. I hold no interest in these shares, but I have added them to my watch list and will monitor any forthcoming news with interest.

About Pete Southern
Pete Southern is an active trader, chartist and writer for market blogs. He is currently technical analysis contributor and admin at this here blog.
More In Currency Articles
More In Gold and Oil News
More In Shares and Markets