Live
Charts
.co.uk
Live Charts UK is a provider of stock market charts for daytrading. Live Charts provides free commodity trading charts, forex live charts, major indices, Gold price charts,crude oil charts, index and stock charts. In addition to our charts we also provide historical data and stock market message boards in our members area.
Live Charts now features UK Share prices and a free members area with watch list,share chat,data filters,trend charts and more tools being added frequently.
Webmasters can get a live stock market widget featuring our Oil prices, Gold price, Dow Jones index and Forex.
Share prices up
Share prices down
Sectors up
Search share prices
Stock Market and Commodities Prices (CFD data)
Bats Real Time Indices

Bats UK 100:
Bats UK 250:
Bats Alt 100:
Members Area Pages
Free Members Area
End of day charts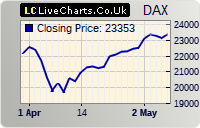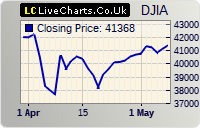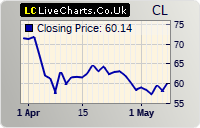 Free brochures about online trading
Use our free service to request brochures about the stock market, day trading, share dealing, spread betting and more. Just select the brochures you want (no limit) and fill out your details. Simple.

Get free online trading brochures
Webmasters! Get a free stock market widget
You can now add our live stock market and commodities prices to your website, including news headlines. The widget features live quotes for Oil prices, spot Gold price and stock market indices.

Visit our Stock Market widget builder
LIVE INDEX CHARTS
OIL AND METAL CHARTS
FOREX CHARTS
CRYPTOCURRENCY
BREADTH CHARTS
LIVE STOCK CHARTS